Ultimate Fire Link China Street Slot Review: RTP 95.97%
Are you searching for the Ultimate Fire Link China Street slot review? One of the newest slots available from Light & Wonder (Scientific Games) is called Ultimate Fire Link: China Street.
There should be enough there to keep you playing with the Chinese-style aesthetics that were used for it, an intriguing assortment of significant features, and substantial jackpots (Ultimate Fire Link fixed jackpots).
Summary of Ultimate Fire Link China Street Slot Review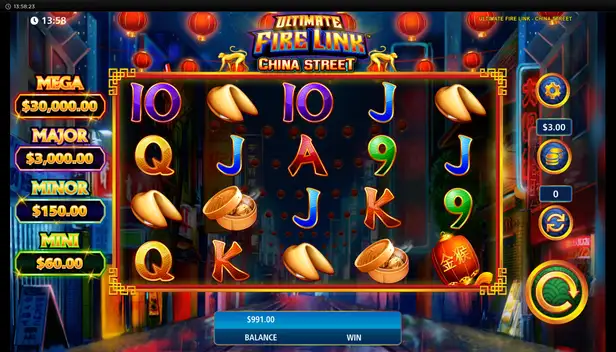 The 5×4 reels that are being used will give you 50 active lines. The Mega Jackpot will pay out 10,000 times the bet, which is a respectable reward to receive from any slot machine, especially given that it also has a 95.97% return to player (RTP). The slot's wilds, scatters, Fire Link spins, and free spins are the features worth noticing.
1. Betting Options
The options listed from $0.20 to $10 should be sufficient in most situations despite the limited betting range.
The best you can expect for this slot machine is a payment of 10,000x the stake when a Mega Jackpot is successfully claimed during the Fire Link feature. You would receive $100,000 if the maximum bet was active.
Although this developer frequently offers operators lower alternatives, we are happy with the game's RTP, which was listed as being 95.97%.
2. Game Features
On the reels, the Paper Lantern Wild will be an additional symbol that can be used in place of the standard symbols to complete winning combos. The other feature symbols are still present.
Fire Link
The element they name Fire Link will serve as the game's primary focus. Fireball symbols must appear, and at least four of them must appear simultaneously on the reels. They each show a prize and stay on the reels for the following three spins. You try to collect more Fireball symbols so that the round count can be reset to 3.
This feature starts with 8 rows, however only the first 4 are initially active. Additional rows become available if you place enough sticky symbols on the active rows. You need more than 20 sticky symbols to get all rows.
Fireball
Once your spins are up, you receive payouts for every Fireball symbol you gathered. They may offer set jackpots or prizes worth up to 100 times the bet, depending on the rows in which they appear. Only the eighth row is eligible for the Mega Jackpot.
Free Spins
Free spins will make up the third and final main feature. To unlock one of six possibilities, you must have the Free Spins emblem dispersed across the center columns (2-4):
20 unlocked free spins with 2x–5x multiplier wilds.
15 unlocked spins with 3x to 8x multiplier wilds.
10 unblocked spins with wild multipliers of 5 to 10x.
7 more spins with multiplier wilds that range from 8x to 15x.
5 more spins with multiplier wilds that range from 10x to 25x.
A random selection is made for the multiplier wilds and the free spins first (could end up with 20 free spins and multiplier wilds of 10x-25x, in a best-case scenario).
You can retrigger the free spins using the same 3 scatter symbols, and you'll get the same number of rounds as you did the first time. At this point, fireball symbols are taken off the reels.
3. Theme and Design
Ultimate Fire Link: China Street is a straightforward slot with a Chinese theme. The streets of a Chinese village serve as the backdrop for both the action and the reels. On both sides, we can see buildings that are illuminated by neon signs and paper lanterns. Play at situs judi slot online terbaik always and win.
The next four symbols have pictures of fortune biscuits, teapots, steaming dishes, and paper lanterns in contrast to the first six symbols, which are just Royals with a hint of an Asian typeface (wilds).
Final Thoughts
Regardless of the style of Eastern or Western theme a player typically likes, this game ought to be a suitable selection. It offers a ton of potent features, pays nicely, and has the potential for a respectable RTP. Those are our results on the Ultimate Fire Link China Street slot review. 
Read More: T-Rex 2 Slot Review: Bet and Features (RTG)